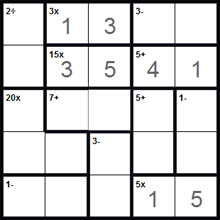 Welcome to Puzzle Baron's Calcudokus! Whether you know them as Calcudoku, Mathdoku or KenKenTM, we've got thousands and thousands of unique puzzles here for you to solve. You can play for fun, or register a free account and compete against other players for the Calcudoku Hall of Fame!
How to Play
Calcudoku is just like Sudoku - you must enter numbers into a grid in such a way so that no number is repeated in any row or column. But Calcudoku puzzles have an added mathematical component! Each grid is split up into smaller sections of 2 or more squares, and each of those sections has an arithmetic equation attached to it (either addition, subtraction, multiplication or division). You must complete the grid so that the numbers is each section equal the mathematical formula assigned to it.
If you're new to Calcudoku puzzles, start off on an easy 4x4 puzzle and work your way up to the larger/harder ones. The same types of solving methods used in regular Sudoku puzzles will come in handy with these as well. Good luck!
---
You'll never have to register an account to play on this site, but there are several reasons you may want to play as a registered user:
IT'S FREE! :-)
Monthly Competitions - registered players are automatically entered into our monthly scoring competitions, and are eligible for our Hall of Fame listings. Record solve times are also kept exclusively for registered members.
Resume Puzzles - save your progress on any puzzle and return to finish it later anytime within 24 hours.
Premium Upgrades - registered users are eligible for premium upgrades which remove all advertising from the site and result in a noticeably larger playing area on the puzzle solving page.
If any or all of the above features sound good to you, click on the button below to register for a free account: